In-House Training Vs Open Courses: Choosing the Best Option for your Team
Understanding ModernGov
·
3 minute read
Continued improvement is vital to the success of your organisation.
Perhaps you, your colleagues or your whole organisation are facing an issue and you need to implement a new policy or develop a specific skill.
The key is to take action to find a solution – and we are confident that we have the training and expertise that can provide that solution.
In this post, we'll be exploring In-House and open-course training so you can discover which type of training will be the best fit for you and your organisation.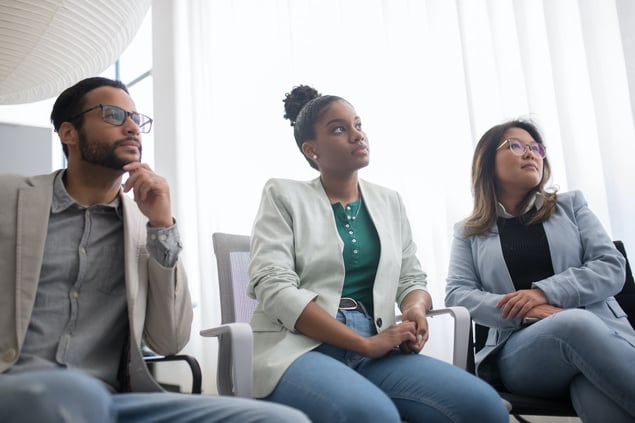 Let's start with open courses.
What is an Open Course?
Public training – also referred to as an "open" course – is an organised training event held on a set date at a public venue which is open for any representative from an organisation to attend.
Delegation is strictly limited to a small classroom to create an interactive environment and ensure the best learning outcomes for delegates.
What Makes Open Courses Great?
Networking –

With a mix of delegates from a variety of organisations across the public sector, attending a public course as a single representative from your organisation can provide a great opportunity to meet and build relationships with like-minded peers within your sector. Not joined our fast-growing public sector community yet? Become a member today (it's free!).
Cost-effectiveness –

If you only have a single colleague or a small group within your organisation who would benefit from the training, you may find the open course will be more cost-effective for you.
Top-class training venues –

All of our open courses are held at carefully sourced training venues, with easy access to public transport links to make reaching us easy. Our quality venues provide a comfortable learning environment for delegates, and all catering is included in the price of your booking.
Virtual opportunity - with hybrid working and virtual training here to stay, we offer delegates the choice of face-to-face and virtual attendance on some of our courses.
Browse the latest open courses coming up and secure your place to avoid missing out on expert insights.
How to Choose if an Open Course is Right for You...
You have a small group or a single colleague who you wish to receive the training.
You cannot take large groups out of the office together for training on the same day.
You are interested in running the course as an In-House training session, but you would like to send a single colleague on the course beforehand, to see if it's right for you.
Next up, In-House. What is it?
In-House training – also referred to as "on-site" training – is team training delivered specifically for your organisation, at your premises or a suitable venue of your choice.
When you choose UMG as your In-House training provider, you will be assigned a dedicated Account Manager who will work with you and the trainer to develop a tailored programme that covers everything you need from the day.
What Makes In-House Training Great?
Tailored, bespoke content – With In-House training, course agendas can be adapted and tailored according to your team's learning requirements. Whether you have a specific training need or would like one of our existing course programmes delivered directly to you, In-House training is a convenient and practical approach to learning and development.
Maximum return on your investment – With no hidden costs and all materials included in the price, our In-House option can often be the most cost-effective solution for your team compared with sending the same amount of delegates on the open course.
Peace of mind – With your dedicated account manager taking care of all logistics for you, commissioning an In-House course can take the stress out of arranging a large-scale training event.
Team building – Taking time out of the office for your team to develop their skills together can be a great team-building exercise and provides a unique opportunity to discuss issues specific to your organisation with our expert trainers.
Learn about the UMG 4-step in-house course development process to find out how we work with you to create the best bespoke course for your organisation's needs.
Before you go, take a look at our in-house statistics from 2022. First up, see what organisations scored our trainer teaching.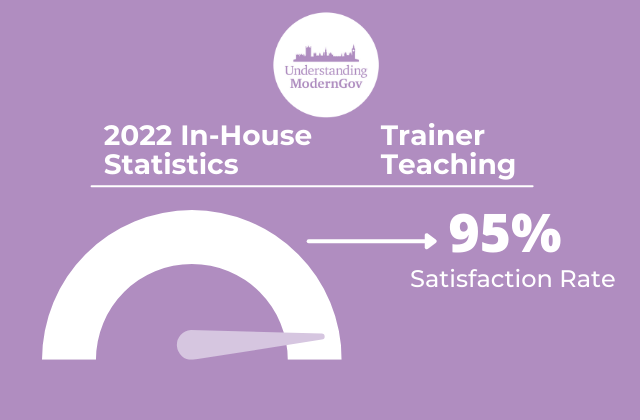 Oh, and let's not forget the training materials and trainer teaching rating...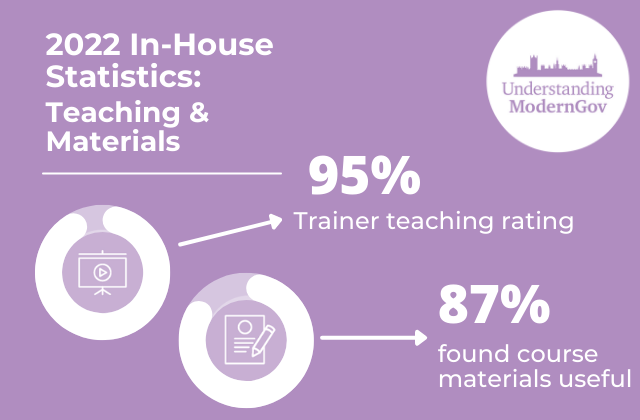 Browse our In-House Portfolio with our Course Catalogue
For a detailed view of our in-house courses, download our course catalogue below. Or to discuss your organisation's training requirements and how we can help, please contact us at 0800 542 9440 or email us at InHouse@moderngov.com.
Click the button to download your free copy.