7 Benefits of Attending an Online Training Course

Chloe Martin
·
3 minute read
Demand for online training continues to grow into 2023.
If you're wondering why, here are some of the key benefits of online training courses and why you should consider attending one if you haven't done so already.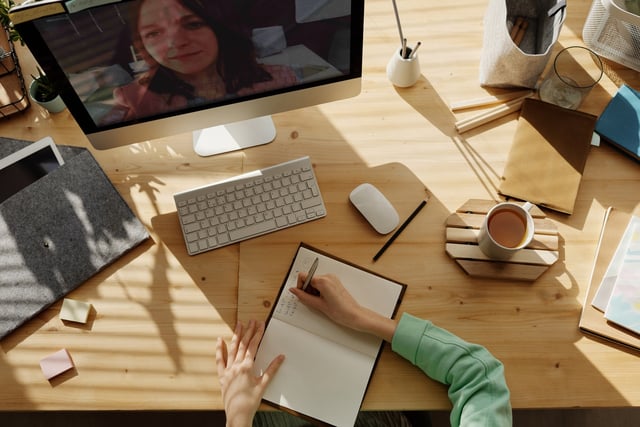 7 Key Benefits of an Online Training Course
1. Enjoy a Flexible Learning Schedule
Online training courses provide a personalised experience for all of the attendees. This is due to the fact that they can ask the trainer in-depth questions throughout the course.

In addition to this, delegates can also receive personalised feedback from the trainer after the session. This allows them to assess their progress and use the offered recommendations to enrich their learning path.

There are also Q&A intervals which regularly take place throughout the day. This is a great opportunity for delegates to have in-depth conversations with one another and the trainer to really maximise their learning experience.
2. Learn in a Comfortable Environment
Online training courses can also offer you a more comfortable learning experience. By being in your own space with fewer distractions, you're more likely to feel relaxed. This, in turn, should lead to higher levels of concentration and increased information retention.

Many of the stresses around attending a training course are also removed. There's no need to worry about rushing to catch the train or whether you'll have to present in front of large crowds of people.

You'll also have access to the course materials once it's over. This means you don't need to panic if you miss a certain section of the course or feel as though you didn't understand something. There will always be an opportunity to go back and reassure yourself.

Learn how to get the most out of a virtual training experience.
3. Become Part of a Community
Online training courses are usually a very open space where people can discuss ideas and resonate about certain frustrations.

Everyone who attends a training course is in the same boat. You're all there to learn about the same topic and improve the same skills. Because everyone is pulling in the same direction, people tend to feel much more comfortable sharing their experiences and views.

It's also common to see familiar faces when you attend a different online training course. Everyone tends to build a rapport with the trainer and this is where a real sense of community is built.

This cohesion can stimulate your learning. As well as hearing lots of useful tips from the trainer, you can also take so much away from simply hearing about another person's experiences.
The Most In-Demand Training Courses for Public Sector Professionals.
4. Enjoy High Levels of Synergy
Online training courses also provide lots of opportunities to collaborate with fellow attendees. Everyone has the same end goal. Therefore, high levels of synergy are created in order to help each other progress during the course.

Resources and ideas are shared amongst attendees while generating continuous synergy through the learning process. This high level of synergy can make you feel much more confident about contributing to the course. You don't need to feel pressured about having a room full of people looking at you and you're more likely to offer useful insight for other attendees to reflect on.
5. Take Some Time to Wind Down
Although the primary purpose of attending an online training course is to learn, they can also add a layer of enjoyment to managing your career growth.

By becoming a part of an online learning community, you're more likely to switch off from what's happening away from your computer screen for a while and put all of your efforts into making the most out of the training course.

Meet new people, ask your trainer for feedback on your contribution and keep in touch with fellow attendees. Online training courses are the perfect opportunity to shake off the pressures of the workplace and engage with like-minded people who are all looking to learn.
6. More Control Over Your Learning
Everybody learns differently. Some people learn more quicker than others. Resources from remote training courses are usually available online once it's finished, so you can digest the content provided in a way that works best for you.

This also means that you don't have to worry if you struggled to understand a certain topic or section of the course. There will be opportunities to regularly ask the trainer questions if you don't understand something by dropping them a message whilst the course is taking place.

Ensuring optimal learning is one of the most important benefits of remote training courses. By learning at your own pace, you've got a much better chance of progressing through the course effectively instead of potentially failing to understand some of the most crucial sections.
7. Easily Track Progression
In most instances, you'll receive immediate results and feedback about your performance on the remote training course. This allows people to understand where there's room for improvement and how they can continue to build on areas where they performed strongly.

Additionally, the majority of remote training courses provide attendees with a certificate of completion. You can use these certificates as evidence in your appraisals and CVs and should contribute to further professional development.
Browse our Upcoming Virtual Courses to Continue Your Professional Development from Home
From guidance on how to become a more confident communicator to managing a hybrid workforce, we've got a selection of interesting online courses set to take place in the next month or so. Head over to our website to find out more about the courses and secure your place here.
Chloe Martin
Content Editor
2+ years in SEO and content marketing. Striving to help public sector professionals develop their skills and learn something new through high-quality content.