What's In-House Training All About?

Chloe Martin
·
3 minute read
With hundreds of satisfied clients and over a decade worth of experience, we continually refine our renowned In-House training for the public sector to make it the best it can be.
But what makes it so good?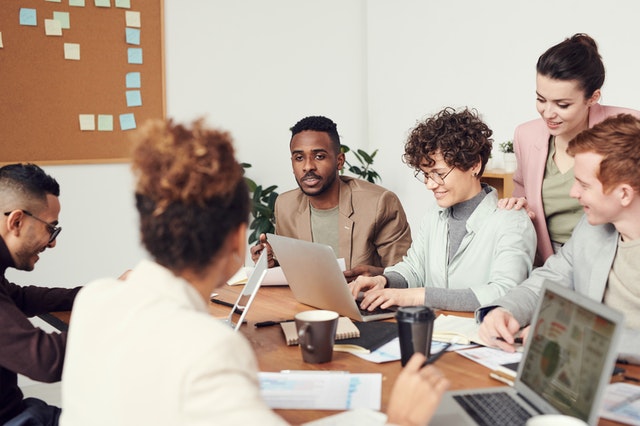 Firstly, What is In-House Training?
In-House training is bespoke, tailored expert-led training that is designed in the context of the client - that means no two courses and no two clients are the same.
You can get a unique course delivered directly to your offices or virtually on a date to suit you (we're quite flexible!). Not only does in-house training offer a practical and cost-effective solution to suit your workforce's professional development needs, but it also offers in-depth evaluation so you know what your team can achieve after.
How to Know if In-House Training is Right for Your Team?
Open courses are a great way to train and teach individual or small groups of employees specific tools and skills, but in-house is the best way to teach your whole department or team at the same time.
Here are some pointers to consider if in-house is the right move for your team...
You have a large team of colleagues within your organisation who would benefit from attending the course.
You have a specific training requirement and would like a bespoke training agenda created with your organisation in mind.
You are interested in one of our open courses, but cannot make the date or are unable to travel to an event.
We have top-class expert trainers right at our fingertips, see our list of expert trainers and learn more about them and their specialisations.
Not looking for bespoke team training right now? No worries! We also have various open courses. Take a look at the most in-demand training courses for the public sector here.
Understanding ModernGov's 4-Step In-House Course Development Process
1. Initial Consultation
More and more research is backing up our experience of the last 12 years: personalisation is the key to effective learning. From our very first conversations and our initial research, we are looking to understand your organisational context, the specific challenges you and your team face and the objectives our training can help you achieve.
Equipped with the outputs you need, and an understanding of the experience and background of your delegates, we then create an up-front and transparent plan detailing a timeline of the next steps.
We're now offering a free skills gap analysis for L&D or HR professionals who manage the training of teams over 10. Check if your organisation is eligible by clicking the button below.
2. Training Design
We are fortunate enough to work with a huge network of training specialists and expert speakers - so you can collaborate with the trainer that fits your exact needs and goals. Again, personalisation and customisation are key, so in collaboration with you and our trainer, we design training materials and workshop exercises which are relevant to the work and experience of your team.
Although our training specialists are experts in specific sectors, skills or policies, you are an expert in your organisation, your needs and your team. This means we seek your sign-off with every workshop to ensure it helps achieve your aims.
Want to learn more about what our In-House courses have to offer? Download our free In-House catalogue with the button below to learn how your organisation can benefit from bespoke training tailored to your employees.
3. Programme Delivery
When you commission an external supplier for training, you want results, expertise and limited hassle. Our professional operations team ensure all training materials are professionally sent and our expert trainers arrive on time and ready to get cracking. A dedicated programme manager is a constant point of contact, ensuring the course runs precisely to your requirements.
Delivering training on-site not only reduces per-delegate costs and travel expenses but has been shown to increase the number of delegates attending CPD courses by taking the fuss away from booking and travel. Feedback from almost every client tells us that the opportunity to gather a whole team of colleagues from other departments together also helps share knowledge and best practice across the organisation.
Learn more about what makes in-house training a top choice for many public sector organisations.
4. Transparent Monitoring and Evaluation
Our monitoring and evaluation serves two purposes: it keeps us accountable to you and helps you analyse the effectiveness of the training. Using detailed statistics, we provide your organisation insight into the effectiveness of the course, learning outcomes and the impact on organisational and professional development.
We're always looking to improve, and love the opportunity to develop new, unique and bespoke courses for anyone with challenging learning and development needs. Drop us a message here and we'll work with you to help you and your team meet your organisational objectives.
View all our most-popular In-House courses and read the full agendas.
What Our Clients Say About In-House Training
We're proud to say our overall score from our clients on our In-House training in 2022 is at a mighty 95%. This percentage takes into account everything from ratings on the quality of materials, to teacher training and the presentation of content.
Read our case studies to learn more about how we've helped other public sector organisations.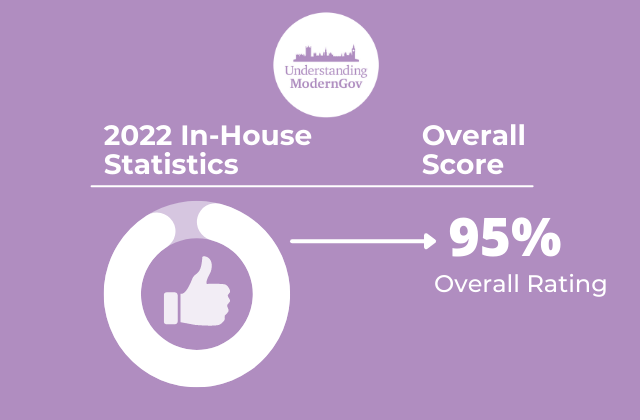 Ready to Sign Your Organisation up for In-House Training?
Now you can. To find out more, ask any burning questions or book, please contact a member of the In-House training team:
Tel: 0800 542 9414
Email: InHouse@moderngov.com