5 Ways to Improve Your Organisation's Diversity and Inclusion in 2023

Chloe Martin
·
3 minute read
Those days of a single-gendered, minimally diverse and same-social class workforce are gone.
Everyone should have an equal opportunity to thrive in their working environment.
That's where diversity and inclusion comes in.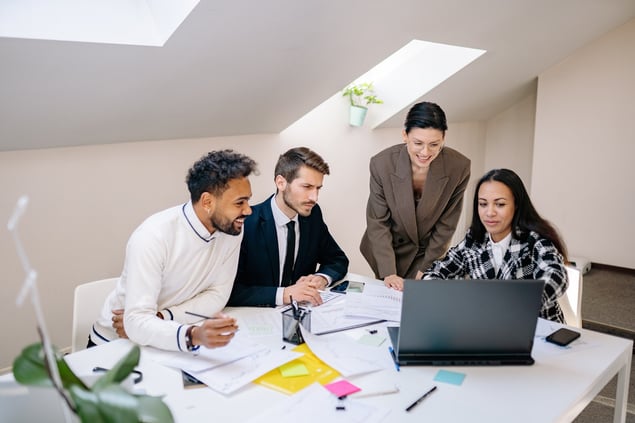 Diversity and inclusion in the workplace are no longer optional – they are pre-requisite for any organisation that wants to thrive.
The growing number of millennials in the workplace has made the topic more important than ever. As the most diverse generation in the workplace, millennials are forcing organisations to rethink how diversity affects the workplace as well as their business efforts.
But, What Does Diversity and Inclusion Actually Mean?
Diversity and inclusion are two concepts, but they are often combined for maximum impact and meaning. The diverse part means a workforce made up of a variety of ages, races, genders or social backgrounds, and inclusion is where those employees feel valued and accepted throughout the wider organisation.
The concept of diversity and inclusion relies on supporting all employees equally and allowing for equal opportunities no matter their background, experience and circumstances.
Even after you've put time and effort into building a diverse and multitalented workforce, you can't stop there. You have to go beyond the formally required policies and ask questions like – who are we placing in leadership positions? Are we giving all our employees an equal opportunity to be heard?
How are we actually influenced by an organisation's culture?
Why is Diversity and Inclusion Important in Every Organisation?
You might think developing a diverse and inclusive workforce is just a nice, good thing to do. You're not wrong, but it's much more than that.
Creating an accepting, inclusive and educated culture is not only important to reduce the chances of discrimination, but it will also allow all your employees to feel welcome, safe and valued.
There are bundles of evidence to show that if someone feels happy and secure at work, they're more likely to stick around for longer and perform better in their role.
Benefits of Diversity and Inclusion in Your Organisation
"Just over three-quarters (78%) of leaders understand how an inclusive workplace and
diverse workforce can benefit the organisation." - CIPD Inclusion at Work Report 2022.

But we're here to change that to 100%!

1. Improved employee productivity and morale


Did you know? Diverse teams are 87% better at making decisions (People Management).

2. Greater staff retention

3. Competitiveness by attracting the best talent in the market

4. Greater innovation and creativity: The Harvard Business Review from 2018 discovered that organisations with higher-than-average diversity had 19% higher innovation revenues.



Want to learn how to maximise social value? Here's our guide that tells you exactly how.
5 Ways to Improve Your Organisation's Diversity and Inclusion in 2023
1. Evaluate your leadership and management team
Does your leadership and management team portray equality and diversity? Are men and women equally represented? Does your team consist of those with various ethnic and social backgrounds? The makeup of your team and senior staff tells employees a lot about your organisational culture. Although the number of women in senior positions is slowly increasing, there is still a large gap in diversity and an even larger gap for it to be anywhere near equal.
Learn how to support other women in the workplace.
2. Evaluate your recruitment process
Diversity and inclusion should start in the recruitment process. If this is lacking during your recruitment stages then it's going to have a lasting impact in the team you're trying to build and the employees you currently have.
3. Make sure your anti-discrimination policies are strong and clear to all
Antidiscrimination policies are no longer just an HR compliance requirement. Having a well-researched and crafted policy that clearly lays out the organisation's values shows employees that this matter is taken seriously. However, a percentage of organisations fail to follow their own antidiscrimination policy when these matters occur.
4. Ensure your culture welcomes all voices
Humans are not working robots. We all have individual thoughts, feelings, cultures and approaches to everyday things which depend on our upbringing and experiences. If employees feel like they are not appreciated or valued, they're more likely to quit and find another organisation that appreciates who they are and what they bring. Give your employees an opportunity to express themselves and their culture. Employees feel safe when they can voice their concerns and opinions without fear. This is what all organisations should aim for.
5. Build a multigenerational workforce
For the first time ever, we have 5 different generations working in one workforce. Everyone no matter their age, gender or ethnicity should be heard. It's important to know how to manage and engage the different generations in your workforce, as this can increase productivity and help you to reach a variety of age ranges. Ensure that you have a strong communications strategy so that all employees, no matter their generation or experiences, can collaborate and communicate with ease and efficiency.
6. Eliminate unconscious bias when giving promotions
Many organisations claim the removal of bias when making promotions and managerial decisions, but when you analyse the data, this is often not the case. Tracking promotions and feedback evaluations can identify areas where biases may exist. Aim to set diversity goals as an organisation as a whole to help track the progress.
Become a Top Leader in 2023 with our Training Courses
From effective stakeholder management, agile project management to demonstrating return on investment, we've got a course that will improve or help you develop the skills you need to succeed in 2023. See our upcoming courses and secure your spot.
Chloe Martin
Content Editor
2+ years in SEO and content marketing. Striving to help public sector professionals develop their skills and learn something new through high-quality content.