A Guide to Equality Impact Assessments for the Public Sector

Chloe Martin
·
4 minute read
Decisions, new policies and practices can impact different groups of people.
But how do we find out whether this impact will be positive or negative?
Equality Impact Assessments (EIA) are the most effective way.
In this Equality Impact Assessment Guide for the Public Sector, we cover what an Equality Impact Assessment is, why it's needed, how to conduct one and best practices.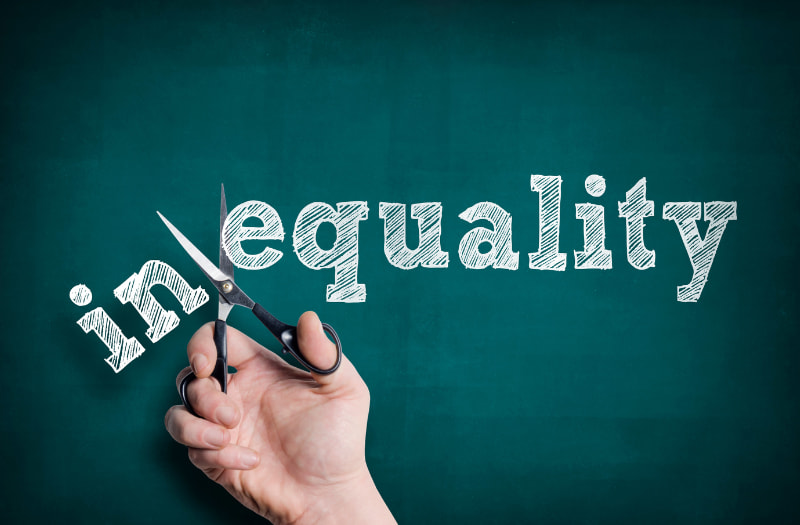 Contents:
What is an Equality Impact Assessment (EIA)?
An equality impact assessment is a process that ensures levels of discrimination, inequality or victimisation of protected characteristics are minimised when creating policies, changes and decision-making.
By conducting an EIA, organisations can not only promote equality, diversity and inclusion but also ensure that their policies and decisions are fair and just for all individuals. It is a critical step in fulfilling the Public Sector Equality Duty and ensuring that all individuals are treated fairly and with respect.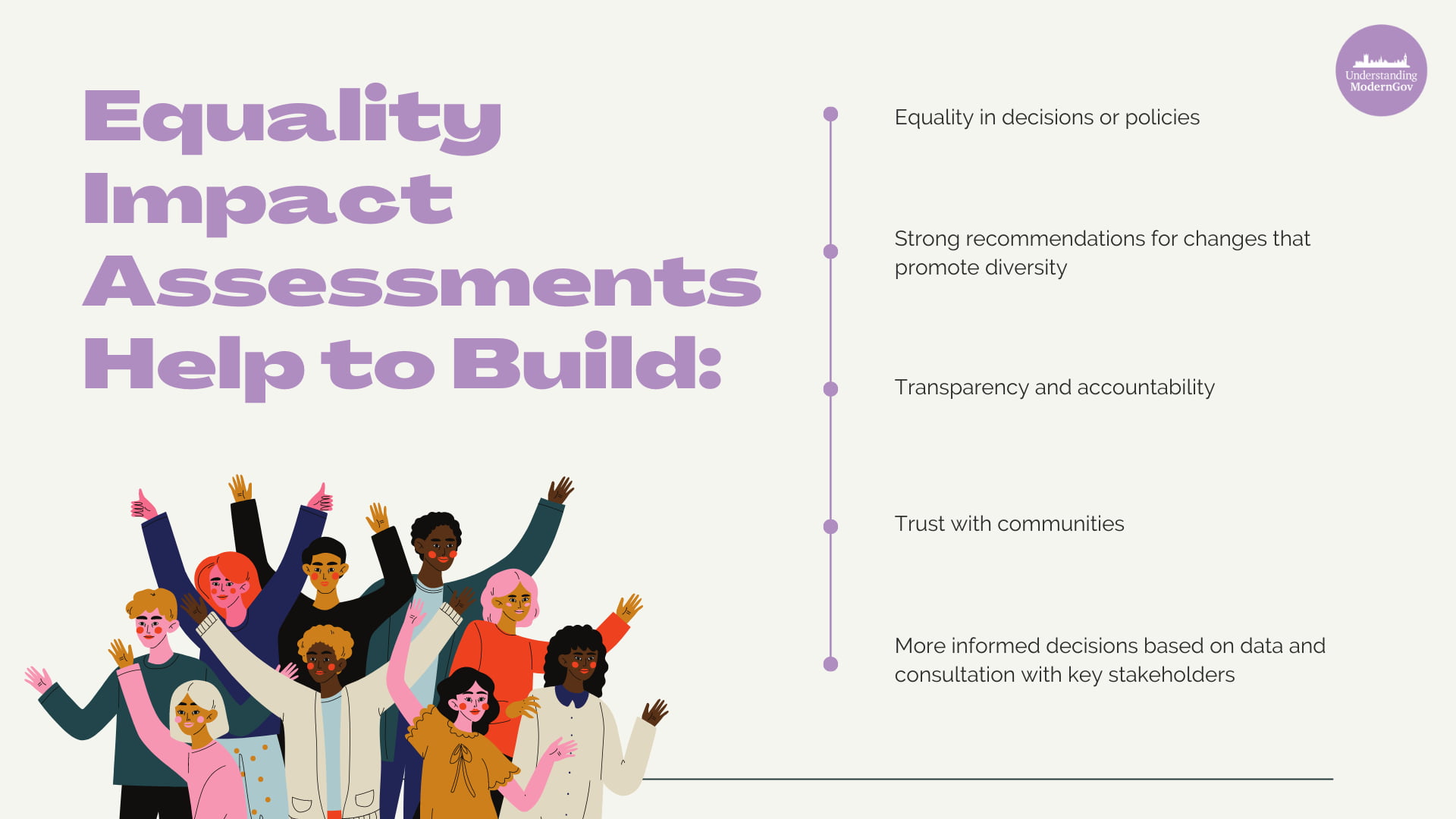 Are Equality Impact Assessments a Legal Requirement?
No. Equality Impact Assessments are not a legal requirement but are evidence to show compliance with the Public Sector Equality Duty (PSED) which is a legal requirement.
As required by the Equality Act (2010), any public sector organisation or authority must comply with the Public Sector Equality Duty.
What Does This Mean?
Any organisation that carries out a public function must comply with the duty.
The specific organisations set include:
Government departments and ministers

Educational bodies - schools and universities

The information commissioner
Private organisations and individuals are not required to comply.
A Quick Rundown of the Public Sector Equality Duty
The Public Sector Equality Duty came into force in 2011 as part of the 2010 Equality Act. The main purpose requires organisations to "have due regard to the need to eliminate conduct that is prohibited from the Act." This includes discrimination, harassment or victimisation.
Legally protected characteristics include:
Why and When Do I Need to Complete an Equality Impact Assessment?
Why?
Completing an EIA is one of the most effective ways to show evidence of compliance with the PSED.
But more importantly, these assessments help organisations view the potential impact of new or proposed changes to policies and functions.
When?
EIAs should be completed before carrying out any changes to ensure due regard is given to diverse groups.
This is paramount to eliminate any discrimination and foster good relations between diverse communities. Many public sector organisations will have a process in place to ensure all groups are considered by a change is made.
Example:
A city council is planning on building a new housing development. Before getting sign-off, employees need to conduct a thorough EIA to assess the potential impact of various groups. For example, those on a low income, people with disabilities or minority ethnic groups to name a few. This involves examining whether this development would provide equal access and opportunities to all groups or if it causes disadvantages to others.
What Should be Included in an Equality Impact Assessment?
All EIAs should be as evidence-based as possible to ensure all decisions, policies and changes are transparent.
Here are 6 key points to include in your Equality Impact Assessment:
1. Definition of your policy or decision: Clearly define what your change is and how it will be implemented.
2. Identification of potential impacts: Now you've defined your change. Show that you've thought about the specific groups that may be impacted by this.
3. Identify what data you're collecting: This can include demographic information, employment, education etc.
4. Consult those groups: In order to collect the data, speak to the groups to assess their views on this change.
5. Analyse and recommend: Study the data you've collected and recommend any potential changes to minimise the negative impact on those groups.
6. Monitor and review: Now you've minimised the impact, create a plan to monitor and assess this change over time to ensure the impacts are addressed over time.
4 Equality Impact Assessment Best Practices
1. Consult other groups
The EIA process doesn't need to be done alone.
It can be tricky for only one person to fill out an EIA without having living experience as all the protected characteristics. Consult other groups, speak to networks to hear more about their experiences or ask employee voice representatives for their thoughts.
The more you consult the right groups and people, the more inclusive your EIA will be. This will help you see greater opportunities and potential barriers that may be blocking inclusion in your decision.
2. Use a structured approach
When conducting EIAs, aim to create a systematic process everyone can follow. This helps analyse the ongoing impact of your changes and ensures the process is consistent across policies, changes or decisions. This means including a clear definition of goals, purpose and steps.
3. Go beyond the protected characteristics
Go beyond the 'protected characteristics' stated by The Public Sector Equality Duty to ensure your policies are truly inclusive. Ensure you've thought thoroughly about the different groups and how this change could impact them.
4. Assess the positive impacts too
EIAs don't always need to focus on negative impacts. By analysing positive and negative, you gain a complete view of how a policy can negatively impact disadvantaged groups or potentially promote positive impacts on equality, diversity and inclusion.
How We Can Help You Create Effective Equality Impact Assessments
Learn how to create effective equality impact assessments and show quality evidence for compliance with the Public Sector Equality Duty with our Effective Equality Impact Assessment training course.
Our course will help you produce best practices for EIAs, think about the bigger picture of your decisions or policies and how to implement results.
What to Expect From an Equality Impact Assessment Training Course
Our Effective Equality Impact Assessments training course is a full day of expert knowledge, practical workshops and plenty of opportunities to connect with other public sector professionals.
We'll make sure you leave the day with a wealth of knowledge and tools to create inclusive policies, engage with key stakeholders and develop a culture of inclusivity throughout your organisation.
View the learning objectives below to understand more about what this course covers:
Key Learning Outcomes:
Understand the powerful role of EQIs in fulfilling the Public Sector Equality Duty
Create policies that promote equality and avoid unconscious bias
Make comprehensive assessments that engage the right stakeholders
Drive change with effective and comprehensive reporting
Develop Truly Inclusive Policies with our Effective Equality Impact Assessments Course
Develop the skills and gain the tools to ensure your organisation makes informed decisions to promote equality and inclusion, how to conduct EQIs and learn top strategies for implementing the results. Register your interest for our Creating Effective Equality Impact Assessments training course.
Chloe Martin
Content Editor
2+ years in SEO and content marketing. Striving to help public sector professionals develop their skills and learn something new through high-quality content.