10 Quick Ways To Improve Your Writing in the Public Sector

Chloe Martin
·
4 minute read
Picture this.
You're tasked with writing the first two sections of a report for stakeholders in the morning. Then, you're tasked with writing a brief for elected members in the afternoon.
As a public sector professional, you need to know how to adapt your writing to various audiences and formats.
It can be tricky to do this, but knowing your readers and how they consume information is a great place to start.
We'll support you with the rest.
In this blog, we'll share 10 quick ways you can improve your writing skills for the public sector to be able to write anything, anytime.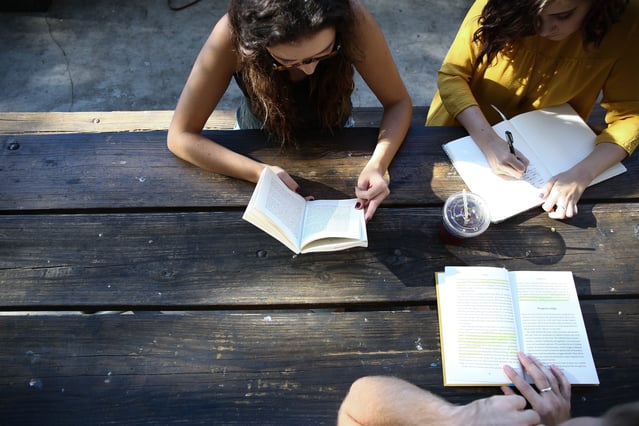 To ensure your writing skills are clear, confident and persuasive, follow these 10 quick ways to improve your writing in the public sector...
10 Quick Ways to Improve Your Writing in the Public Sector
Know Your Tone of Voice
Don't make the mistake of showing your personality too much in your writing. Although it can make your copy feel more engaging, think about how you should communicate as part of the public sector to maintain professionalism and ensure you resonate with your audience.
Be Succinct and Concise
Rather than getting your message across in a roundabout way, get straight to the point. Your audience might not have much time to waste and could switch off, missing key bits of information. By keeping your copy succinct and concise, you not only ensure the clarity of your messaging but it'll also make your writing much sharper.
Learn more about the essential writing skills public sector professionals need.
Use Simple Sentences
Just like your words, terms and phrases need to be simple, so do your sentences. You'll tend to find that long, complex sentences suit more literary pieces but not so much public sector writing. Short, less complicated sentences are much easier to write, read and follow without the reader tripping up. Although, that doesn't mean every sentence needs to be similar in length. Mix it up a little so your writing maintains a nice flow.
Don't Over Explain Everything
It can be tempting to write down everything you can think of to add value to the readers. However, the idea is to give readers just enough to understand what you're trying to tell them without overwhelming or boring them.
If you find yourself going in circles with the level of detail, look at each piece of information and work out how much actual value it will bring. If it doesn't add anything, get rid of it. Your writing will be stronger without it.
Get Rid of Filler Words
Rambling and wordy writing can make text hard to read and in the public sector, you can't afford to be unclear. Some words tend to show up in writing all the time but they don't contribute much and could just clutter your messaging. Here are a few common examples you can eliminate right away:
You basically don't need these words. They're essentially useless = You don't need these words. They're useless.
Remove excess words in order to clean up your writing = Remove excess words to clean up your writing.
During the course of this writing course, you'll learn some new skills = During the writing course, you'll learn some new skills.
Back-Up Your Points
There's no place for ambiguity in the message you convey. Whenever you make a statement, make sure to back it up with facts, figures and research. You shouldn't expect your readers to swallow unsupported statements whole and they're more likely to engage when there's evidence available.

Read our quick guide on presenting complex information with simplicity.
Work on Your Persuasive Technique
To frame your message in a way that gains a positive response every time, you need to be persuasive in your writing. Here are some useful tips to work on overtime to boost your persuasiveness:
Know your audience - you need to know who you're talking to before you persuade them.
Present opinions with declarative statements, facts or research findings to hook the reader's attention.
Research both sides as you have to know what you're trying to get your audience to disagree with.
Be empathetic as it shows you can relate to the person reading your content.
BONUS TIP: Improving and learning the psychology behind copywriting and how readers interact with various content is a great way to become more persuasive. Read our 5 quick-fire ways to improve your copywriting skills to get started.
Be Adaptable
One of the most valuable skills to have is adaptability. As you're likely to be moving from a blog post to a report and then social media posts before sending out emails, knowing how to adapt your writing style from one to the other will help you create more effective and engaging copy.
For example, you might have the skills to write an engaging blog post, but you need a different set of skills to sell that blog post in a tweet with a tight character limit. A good way to work on that is to be consistent with your writing. The more you write, the more you'll improve and know what works better.
Take a Writing Course
Whether you want to work on your advancing your meeting minutes or learn how to write more effective reports. We've got a range of written communication courses that will make your writing more impactful for the public sector. Who wouldn't want that?
See our upcoming courses and book your place.
Proofread Regularly
The first rule is to always proofread your work and use spellchecking tools to help. However, don't just look over your own work and hit publish, grab an extra pair of eyes as somebody else from your team could spot something you didn't. If others are also writing, offer to proofread theirs.
Not only will this help you improve your proofing skills but it also gives you a chance to see how others in your team are writing so you can continue to learn from each other.
Take Your Written Content to the Next Level
If you're looking to write better reports, take minutes more effectively, work on your briefings or even brush up on your writing in general for the public sector, then this guide is for you.
To get your copy, click the link below.
Chloe Martin
Senior Content Editor
2+ years in SEO and content marketing. Striving to help public sector professionals develop their skills and learn something new through high-quality content.