Why Setting Writing Goals is Important and How You Can Set Your Own
Understanding ModernGov
·
3 minute read
Have you been stuck in a writing slump, not knowing the aim for your writing or feeling like you don't know what you really want to achieve? If the answer is yes, setting writing goals might become your new favourite activity.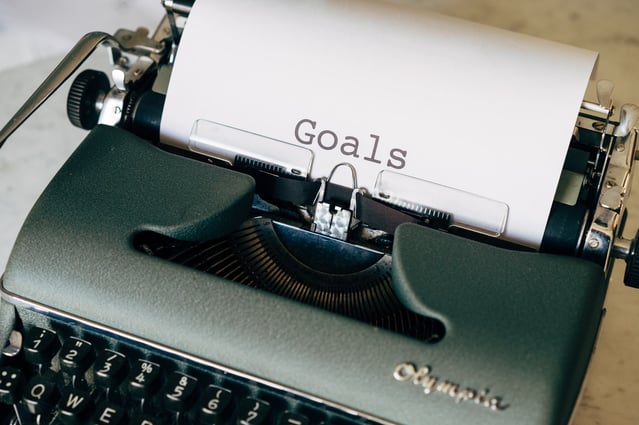 Can Setting Writing Goals Help You Grow?
Whether you're in a writing heavy role or not, setting writing goals is a great way for any public sector professional to grow in the workplace, especially since writing skills are now more in demand than ever.
Having defined writing skills can have a positive impact on the public sector. We believe having writing skills...
Shows the ability to explain your ideas and thoughts

Communicates competency and courtesy

Allows you to collaborate with other professionals effectively
Why Should I Set Writing Goals?
Setting writing goals is like setting New Years resolutions. Both have the opportunity to help you grow and expand your skills, but only if you make them achievable and stick at it.
In the public sector, continuous improvement and adaptation is key for success. Setting writing goals will help you become more motivated to write, keep track of your achievements and progress, and help you review your writing and what you want to achieve in the future.
Writing goals are not set in stone. They can always be adapted and changed to suit any changes you think would increase your chances of achieving them.
We're ready to help get you out of that writing slump.
Top 5 Tips for Setting Achievable Writing Goals You'll Actually Stick to
Set SMART Goals
SMART stands for Specific, Measurable, Achievable, Realistic and Timely. SMART goals are a great way to set specific and manageable goals that will help you achieve what you really want from your writing. If you're after some examples, here's a great place to start…
Specific: I'm going to write a 40-page public sector writing guide.
Measurable: I will have 30,000 words written in two months.
Achievable: I will write 500 words per day for two months.
Realistic: I will become a faster and more accurate writer after finishing this guide.
Timely: I will start writing tomorrow (9th Aug) and finish in two months (9th Oct).
See more examples of SMART goals for the public sector.
Focus on long-term productivity
Setting short-term goals is effective, but only if you want short-term productivity. In our books, long-term progress is much more effective and efficient, as you're more likely to get into a routine and a way of working that motivates you. We're not saying you can't celebrate the short-term goals. We're saying that giving yourself long-term milestones to hit will result in higher productivity overtime.
Find out if your writing skills can get you a promotion.
Give yourself room for flexibility
Life can get messy and unorganised sometimes and your creative energy might be running low some days. It happens. If your goals are too harsh or you're struggling to meet them, this probably means they're not reasonable and don't fit into your everyday life. When setting your writing goals, think about the bigger picture and don't focus on productivity over progress.
Giving yourself more flexible goals will help you work them around your life, even if things don't always go to plan. Creating goals with tight or misleading deadlines will demotivate you and can often lead to burn-out - something that's best to avoid at all costs.
If you're looking to dramatically improve your writing skills, here's 5 steps to follow.
Set timeline to review
Although you know that your writing goals need to be SMART, we recommend creating a timeline to review or edit your goals. This can be as little or often as you like, but setting a time to review your goals will help you stay on track and potentially revaluate your goals to suit your current writing situation or new projects.
If you're thinking of expanding your writing skills even further, browse our range of writing courses today and book your place.
Become part of a writing community
Whether you're a writer for the public sector or any other industry, having a community of like-minded people can make a world of difference. Not only can you meet and learn from new people, but you can also discuss writing topics in your role, brainstorm content ideas or practice new writing techniques with others.
How We Can Help You Achieve Your Writing Goals
With our public sector writing courses, we offer delegates support beyond the training day. The Understanding ModernGov Network gives delegates access to continued learning support through our expert trainers, forge new relationships with others you met on your course and share knowledge, experiences and ideas with the network.
If you want to increase your chances of achieving your writing goals, become part of our community and receive discounts on our courses, tailored content on topics you're interested in and priority updates on our upcoming training courses, so you never miss a thing. Sign up today.
Set Writing Goals You'll Actually Stick to with our SMART Goal Template
Whether you've got a new idea that you want to bring to life, or you've been set a project with a looming deadline. SMART goals are a great way to manage your time and stay on track. Download our free SMART Writing Goal Template to get started.
P.S This template can be used to set any type of goal – it doesn't just have to be writing goals!