10 Examples of Employee Training Goals in 2023 and How to Set Them up for Success
Understanding ModernGov
·
4 minute read
Setting training for employees can improve productivity and skills.
But, without realistic training goals in place, employees may struggle to see the impact of their training.
Whether you are about to set your employees training goals or you are looking for ways to set realistic training goals that employees will stick to, look no further.
In this post, we'll cover all of that plus 10 examples of training goals for the public sector to help you get started.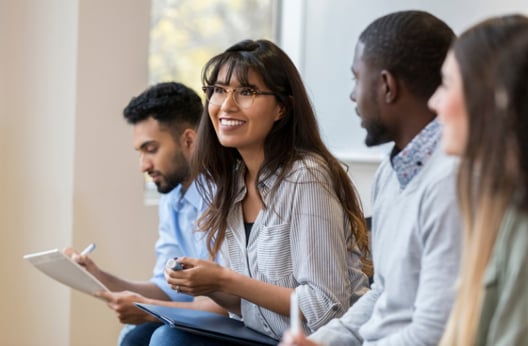 Content:
What is a Training Goal?
A training goal is a desired result that is achieved through the completion of a training course, ongoing development or a training program. Training goals motivate employees to achieve professional or personal development training so they can improve in their role, better serve their communities and develop their personal skills too.
How to Set Realistic Employee Training Goals
1. Know where your employee's skills gaps are
There will always be gaps in skills and knowledge, especially since we humans are making advancements quicker than ever. But, if you assign training that is not entirely relevant to that employee or team, you'll most likely receive a lack of enthusiasm in return.
It can be time-consuming to conduct a skills gap analysis for your whole organisation, so that's why we're offering to do it for you – all free of charge. Learn more about our skills gap analysis consultation using the button below:
2. Ensure employees can always access the goals
Everyone is busy with their own meetings and workload to do, so it's important to ensure employees have access to their goals so they know exactly what they need to do and by when. This could be done via an online portal or in an accessible folder on your organisation's main communication platform, like Microsoft Teams or Slack.
3. Create a clear roadmap
Employees need to visualise their goals and how they are going to achieve them. Many people have different ways of doing this, for example, some may benefit from an interactive chart to track their progress but others may only need to hear their goals verbally to achieve them. Speak to your employees before setting the goals to ensure you provide the best opportunity to achieve them.
10 Examples of Employee Training Goals for Public Sector Employees in 2023
Increase traffic to the main website by 25% through social media channels
Produce a more effective process for the way we handle and apply SAR exemption in two months
Reduce response time to customer complaints by 45% by the end of Q3
Improve the rate of securing resources for the team by 50% through influencing and negotiating techniques
Learn how to give and receive 360 feedback ready to conduct it in Q4
Develop and implement neurodiverse policies in the organisation by the end of March
Learn how to use tools and techniques to mentor your mentees effectively
Improve your knowledge of the latest health and safety regulation updates to ensure procedures are fully complaint
Improve strategic thinking to gain better perspectives of stakeholders
Develop your knowledge of the principles of effective commissioning to improve our commissioning process organisational-wide
Remember, the more specific a goal, the better. Your employees need to know what they're doing and how they are going to get there – this can't happen if the goal is unclear!
5 Quick Tips to Ensure Your Employees Meet Their Training Goals
1. Ensure employees know what the benefits are if goals are met
Think about new years resolutions. Many people forget, lose track or give up on their goals just two weeks after. The key to sticking to these goals is by having the incentive to finish the goal. This doesn't have to mean extra pay, benefits or anything that could cost the organisation large sums of money. It can be ensuring that the training outcomes will truly help that employee or team in the long run – e.g. gain a promotion or provider greater services to the public.
2. Break it down into short milestones
If you notice an employee is not reaching the goals you want them to, maybe it's time to rethink their structure. Larger goals that are designed to be completed over several months can be challenging for employees who struggle to see the end result. If this happens, break down the goals into shorter milestones so it gives them closer points to aim for.
3. Ensure goals align with the wider aims to show the organisational impact
Although it's important that employee goals align with their needs and career pathway, it's also important that they align with the organisation too. More and more employees are concerned with the impact they have on the wider community and organisation through their job role, which means they need to see how their time and effort will make a positive impact on wider values.
4. Check-in throughout
Reaching a goal can start off on a simple path, but some goals, opinions and needs change over time and that goal may become less relevant. It's important to check in with your employees to allow them to offer feedback or make suggestions on changes so they can work with you to craft the most effective training goal for their role.
5. Define what will happen after the goal is achieved
You can set one goal at a time to avoid overwhelming anyone, but this would be more time-consuming to carry out and wouldn't be helpful in the long run. When coming up with your training goals, try to set up a series to show what the plan of action is over time. With the example below, notice how the goals flow from one to the next:
Develop an effective social media strategy (could be more specific and choose one channel to focus on) to engage the target audience
Increase traffic to the main website by 25% through your chosen social media channel
Develop an efficient process for analysing the success of content creation by Q3
Decrease the time it takes to create social media content by 15%
Whatever Your Organisation's Training Goals or Needs, We're Here to Help
If you're unsure what your team's skills gaps are or you need help to produce a training program that your employees will stick to, we can help. Check your eligibility for our free skills gap analysis consultation to get started.
Employee Training Goals Q&A
Why are employee training goals important?
Personal and professional development is becoming a number one value for employees in recent years. 76% of millennials believe personal development opportunities are one of the most important aspects of organisational culture. This shows that giving employees the opportunity to achieve and setting goals to drive them will produce stronger services and productivity.
What makes a training goal "good"?
A "good" training goal depends on the aim and who it is aimed for. But, by using SMART (Specific, Measurable, Attainable, Relevant and Timely) objectives, you can ensure every training goal you set for your employees is realistic and relevant to their job.
What's the difference between training goals and training objectives?
The main difference is the length of time. A goal is often something that is achieved over a longer period of time, whereas an objective is used to define the actions that it takes to achieve the goal.
Do you need to offer training and set goals for senior staff?
Yes! Senior staff are likely to need training and development to keep up with any changes, even if they have been in their role for some time. A survey from Skillsoft in the UK shows that roughly two-thirds of employees said they felt workplace training should continue throughout their career, regardless of their position.