Preparing For Your Bid Presentation

Chloe Martin
·
3 minute read
So, you've written and submitted a compelling bid.
Now comes the next step, the bid presentation with your client.
This is really the make-or-break point in the bid process, so it's crucial that you leave your client convinced that you're right for their needs.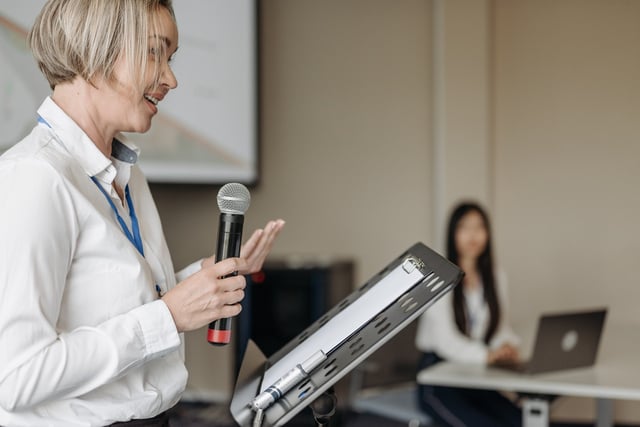 This isn't just about how you present, it's about what you're presenting. Don't make the mistake of rereading the proposal to your client, you now need to prove to them the value of your organisation.
We understand it can be difficult to present a bid, so we've put together some tips to help you win over your client.
5 Top Tips for a Winning Bid Presentation
1. Basic preparation will go a long way
Turning up at the wrong location, not knowing who you're presenting to and scampering around trying to find an HDMI cable all show a lack of preparation. This will not only ruin your presentation, but it'll also show a lack of commitment to the project and client.
Knowing where you're presenting and who you're presenting to is a great place to start. Ensure you plan the journey in advance to allow a reasonable amount of time to set up. Communicate with the client to understand who will be on their panel. It's important to know what their role is, who they want to see and what they want to see. Before you even start planning the presentation, it's important to know what the time limit is. This will help you choose the key points to present.
Want to open your presentation with impact? Here are the most effective ways to open a presentation.
2. Present the right content
Knowing what content to include can be a daunting task. The important thing here is to tailor the presentation to your audience. As we've mentioned before, talk with the client to get an idea of who will be on the panel. From this, you'll be able to include content which will address each panel member's needs and concerns.
The content in the presentation should be fresh. You don't want to make the mistake of repeating the proposal to the client. You should focus on the points that prove your organisation is right for the project. Evidence such as key achievements and testimonials will help solidify your points. Storytelling is always a good way to present complex information in an engaging way.
Have a look through some of our top storytelling tips here.
3. Know how to present your content
So, you've got an idea of what content to present. Now let's look at how you can present it.
Firstly, it's important to understand how much content should be on your slide if you're using PowerPoint, Keynote, Prezi or any other presentation platform. Most of the content should be communicated by yourself and your team, the slides should only offer the key point(s) with necessary visual aids and infographics.
Too much content on the slides will distract your client. They won't be able to read off the screen and listen to you, so present your content wisely. You can leave the extra content in some collateral. Leave behind a few documents to reinforce your key points.
Once you've found out who will be on the client panel, you should try to tailor the way you communicate in a way in they understand. This means streamlining industry jargon so your audience is fully immersed in the presentation.
4. Get your timing right
Timing is also key, either the client will give you a time limit or you give yourself a time limit. The presentation should be short and informative. If you ramble on about the same point for even a few minutes then your audience will lose focus. You want your client to remember your key points, so make sure you get straight to it.
5. Move your hands
To help install confidence into your client, you must be perceived as confident. Hand movements can really show the difference between someone who is nervous and someone who is confident. Make sure you use hand gestures to explain your point, this will show your client that you are open, friendly and trustworthy. Maintaining eye contact with your audience is another key element. Again, this indicates openness and trustworthiness, something your client will greatly appreciate.
Find out why body language is important in communication and some real-life examples.
6. Receive expert training
No matter how many blogs you read, it's difficult putting all of this into practice. Training on this subject will provide you with the necessary skills and techniques to present a bid in an effective and engaging manner.
Want to Learn More?
Whether you want to learn how to project a powerful leadership presence, handle aggressive complaints with ease or speak with greater impact, we've got a course for you. See our range of expert-led Procurement, Finance & Fraud training courses for public sector professionals using the button below.
Chloe Martin
Content Editor
2+ years in SEO and content marketing. Striving to help public sector professionals develop their skills and learn something new through high-quality content.