Guide on How to Write Policies and Procedures With Expert Insights

Chloe Martin
·
6 minute read
You might think policies and procedures are dry and dull, but they guide the key functions and decisions in an organisation so processes run smoothly.
This all sounds great, right?
But we know writing policies and procedures isn't an easy task.
That's why in this post we'll be covering how to write policies and procedures that are clear and understood, why they are important and we've teamed up with our communications expert to provide you with some insightful tips.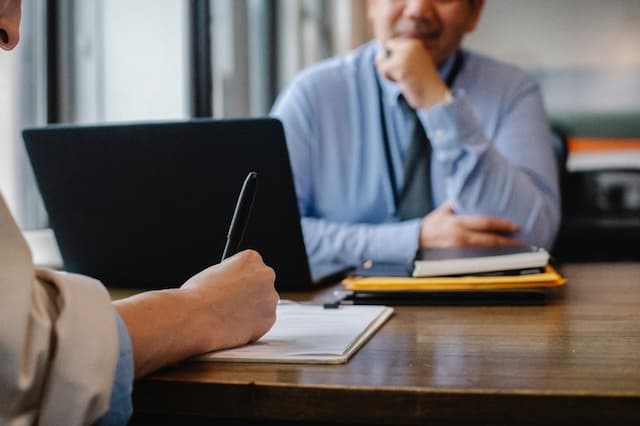 What is a Written Policy?
A written policy is a document that holds the instructions to determine how things are run in your organisation. Your organisation's policy acts as an action plan that helps to maps out or influence decisions, structure and values of your organisation and they are your employee's go-to manual for work ethic or office behaviour.
Each organisation's policy will be different, even if the sector is the same. The entire content of your policy depends entirely on your organisation's objectives and goals.
What is the Difference Between a Policy and Procedure?
While a policy is a large document that sets the tone for employees in your organisation, a procedure is the steps or processes these employees should follow to implement the policy successfully. A clear procedure is a great way to outline smaller or subtasks that relate to the overall expectations and normalities of an organisation.
Policies and procedures can be set out for all employees or just a team depending on the levels or size of the organisation and the goals.
Who is Responsible for Writing Policies and Procedures?
We mentioned that policies and procedures often stem from the overall goals or expectations in an organisation, which, often come from the more senior-level staff. This means that management staff and sometimes HR professionals are the ones who form the policies and procedures.
In some cases, you may have policies and procedures for your department that are separate from the rest of the organisation – these will likely be developed by department managers who understand the nature of your work and the tasks you take on.
Want to improve your writing? Read the rest of our Written Communication articles here.
Why are Written Policies and Procedures Important?
Each year, many organisations lose thousands of pounds through common mistakes, lapses in internal processes and costly compliance mishaps with laws or regulations. Every policy and procedure helps map out a framework for decisions to be made in order to meet your organisation's mission and values.
Policies and procedures are essential for efficient management of employees in any organisation and sector. They can help achieve greater understanding and co-operation between your staff members – which ultimately can improve service delivery overall and allow managers to see how to improve processes.
Getting policies and procedures right means reducing the risk of unwanted events, holding employees accountable, building a stronger corporate culture and being able to view processes easily – with the option to make adaptions as the organisation grows.
What Qualities Make up a Good Policy?
All policies need to be clear, precise and have a good logical flow, but what are some key qualities that make up a good policy? Here are 4:
Realistic: This is the number 1 quality. Not only because you would be making your own workload greater if your policy was unrealistic, but you would also be making your employees' lives more confusing. It needs to make sense.
Suitability: Is your organisation working towards a specific goal or are you hoping to set new normalities with this policy? Make your priorities clear to the reader so employees know how important it is for them to follow.
Adaptable: Not all policies can and should last forever. Make sure your policy can be changed easily without having to start completely from scratch.
Correctness: Whether your policy is for the whole organisation or just a specific group of employees, take the time to ensure your policy is consistently correct in who it is aimed at and what the key instructions are.
4 Qualities That Make up a Good Procedure
Context: Make it clear exactly what actions need to be carried out in order to meet the instructions of the policy. Define who does what and when and you'll be one step closer to a procedure that works.
Completeness: To implement any policy successfully, there needs to be a well-thought-out structure from start to end. Step-by-step instructions are a great way to structure more complex policy needs.
Metrics: Use key criteria, KPIs or metrics to show how to measure success.
Specific: Be to the point – use phrases and words that make it clear what you mean. Only include critical information only – leave out the fluff. Use active voice to sound more direct.
How to Choose the Right Words for Policies and Procedures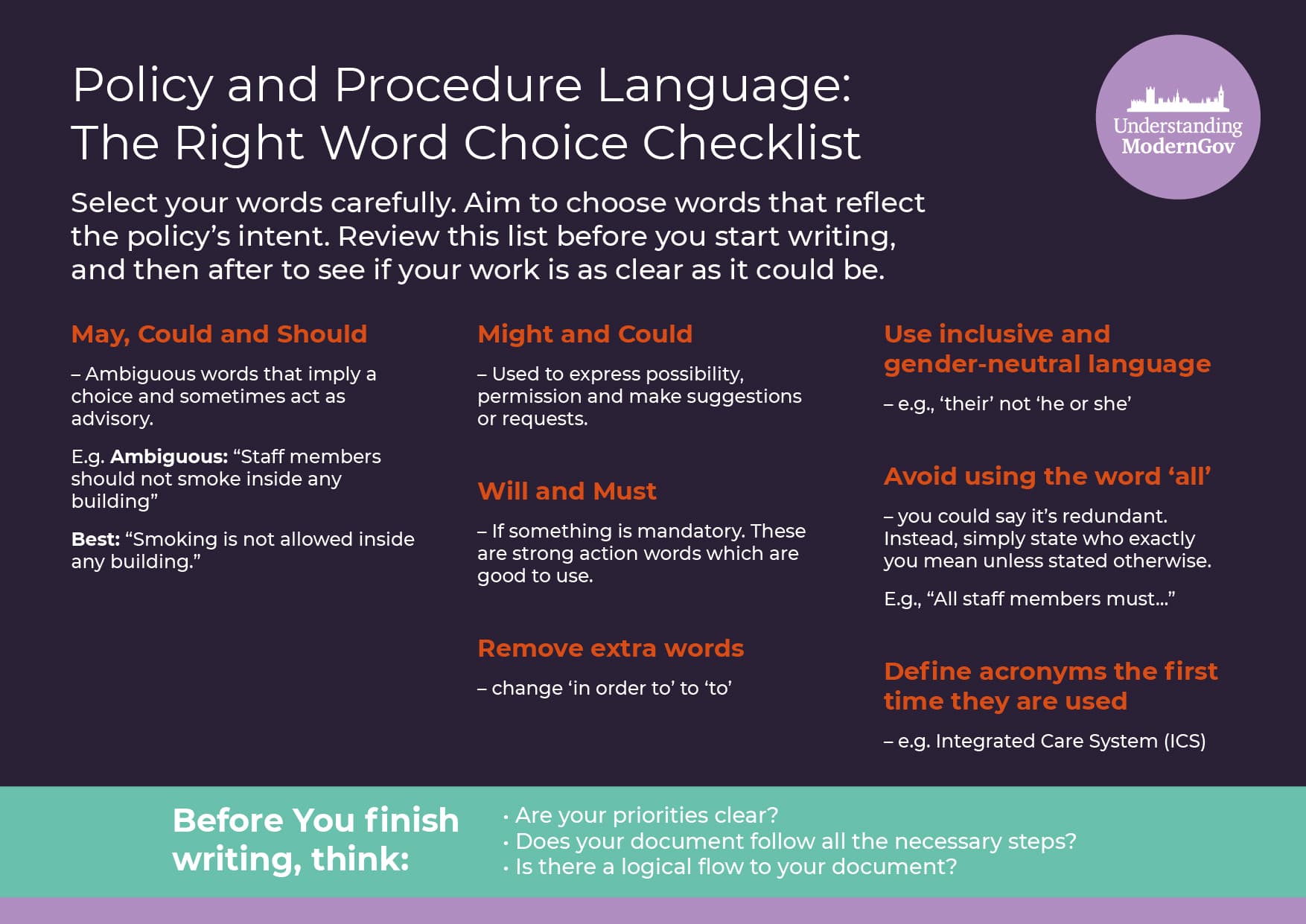 Before you start writing, take a look at this list to make sure you're choosing words that reflect the intent of the policies and procedures. Here are some key word and language choices to look out for:
'May, Could and Should' – Ambiguous words that imply a choice and sometimes act as advisory. E.g. Ambiguous: "Staff members should not smoke inside any building" Best: "Smoking is not allowed inside any building."
'Might and Could' – Used to express possibility, permission and make suggestions or requests.
'Will and Must' – If something is mandatory. These are strong action words which are good to use.
Remove extra words – change 'in order to' to 'to'
Use inclusive and gender-neutral language – e.g., 'their' not 'he or she'
Avoid using the word 'all' – you could say it's redundant. Instead, simply state who exactly you mean unless stated otherwise. E.g., "

All

staff members must…"
Define acronyms the first time they are used – e.g. Integrated Care System (ICS)
Read: What are the essential writing skills for public sector professionals?
6 Quick Tips on Writing Successful Policies and Procedures from Communications Expert, Sue Calthorpe
"Think about the wide range of readers who will need to access your documents. Some will be expert and interested, some will be affected but uninterested, some might be hostile. How will you write text that can be scrutinised by all these readers?

Make sure you use clear, unambiguous sentence structures

Use vocabulary that everyone understands

Write in the active, rather than the passive voice. Your reader always needs to be clear who's 'doing the doing' if you want to ensure compliance

Ensure your communications are inclusive: how will readers with neurodivergent processes or disabilities access your policies and guidance? Learn more about

inclusive communication and how you can remove barriers with our blog post

.

Consider what else sits alongside your documents and make sure the information is coherent"
Get to know Sue and which of our training courses she runs here.
How to Get Started
1. Decide who does what
Usually, developing a policy requires a whole team, including experts on the topic the policy is centred around. Make sure everyone is fully supportive of the policy, as this could quickly turn south if later down the line you find everyone doesn't agree.
2. Make a priority list
It's unfeasible to work on more than one policy at a time, unless you have a very large team with a shared knowledge in a specific area. If you've got several policies that need to be developed, make a priorities list to figure out which should be created first and why – also include in this list the policies you need to review.
3. Research, research and research
Although you can find just about anything on the internet these days, it doesn't mean that research is limited to Google searches. Think of research like interviewing employees or external subjects, finding other people who have experience / more knowledge in relevant topics and make sure you identify any laws that could be linked to your policy. When researching, it's important to note that to avoid regular reviewing, try not to include data that may be outdated easily – this will help save time.
4. Use a standard policy template
Each of your organisations might be slightly different, but developing and using a standard policy template for all of them should make each one clear and organised. This is helpful when developing your policy management team to show them how policies at your organisation are written and save them time thinking of a new, unnecessary format.
5. Choose a software to manage the process
There are plenty of benefits to having a policy management system, including visibility, transparency and the ability to automate or assign tasks to your team or show your process to senior management. If your organisation is on a tight budget, using a cloud processor like Google Docs can work just as well, as it allows version history, and everyone can edit one document – not 5 different versions.
Next, start your initial draft!
Should You Have a Policy Review Process?
Simply put, yes.
Outdated policies can leave your organisation at risk by not complying with new laws. Those older documents will most likely be out of date when it comes to new technologies or systems.
You might think of an employee policy manual as being inflexible or even carved in stone, but actually having a process in place to review will help your organisation grow and adapt. In fact, 63% of organisations say their policy management review process helps reduces legal costs and resolution time of regulatory issues or fines.
As a general rule of thumb, you should review every policy between one and three years, but it would be even better if you review all of them each year. Most organisations wait for changes to law or regulations, organisational changes to occur or an incident or policy violation (not recommended by experts) to review.
Many organisations use a Policy Management System (PMS) that hosts and tracks policy content which employees can access as a platform. It can even send reminders for you to read them, track approvals or give feedback – this way it wouldn't fall through the cracks while your day-to-day tasks take hold.
Do you spend lots of time writing policies or other internal documents? And have you ever wondering if those writing skills you use to do so can get you a promotion? Find out here.
Policies and Procedures are the Framework Your Organisation is Built on – Learn How to do Them Right
Whether you need to turn technical information into understandable prose, or you want to gain tools and techniques to organise your policy documents, our training course will ensure your policies are understood and acted upon. View the full agenda for our Successfully Writing Guidance, Policies and Procedures training course to learn more.
Chloe Martin
Content Editor
2+ years in SEO and content marketing. Striving to help public sector professionals develop their skills and learn something new through high-quality content.