How to Achieve Female Empowerment in the Workplace

Chloe Martin
·
3 minute read
Women offer a unique perspective to the business world, but simply getting women into the workplace isn't enough on its own.
To reap the benefits of gender diversity, organisations need to empower female employees to reach their potential and give them equal opportunities to get there.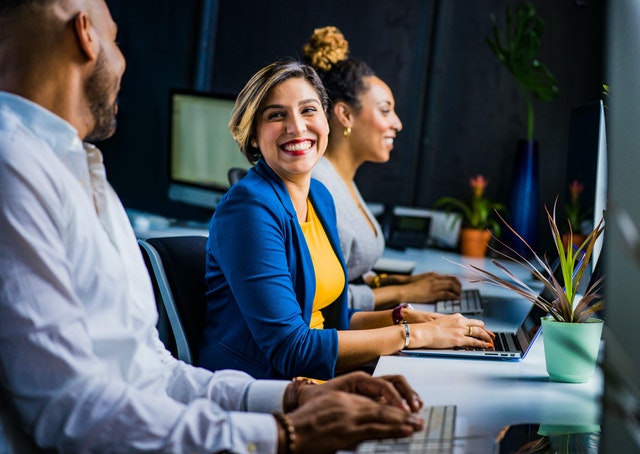 Fortunately, many organisations already have policies in place to encourage and empower women to find workplace success - but there is still a long way to go.
Four Ways to Promote Female Empowerment in the Workplace
1. Work to Improve Gender Diversity
It can be challenging to bring about wide-scale change, but you can start by looking at how your organisation is currently operating in terms of gender diversity.
You might already have an idea of improvements you could make, but start by asking for suggestions from others and then really listen to what they have to say. From the information collected, propose goals for improving gender diversity in your organisation.
Make sure the rest of the organisation is aware of your new initiatives, from entry-level colleagues to decision-makers. Today, it shows 87% of companies are highly devoted to gender diversity, compared to 56% when McKinsey & Company first conducted a similar study on the state of women at work in 2012.
The culture of the workplace is equally important to revisit. All employees should feel respected and that they have an equal opportunity to grow and advance. Is that the case at the moment?
Organisations need to make sure they have the right processes in place to prevent bias from creeping into hiring and reviews. Done right, a more diverse workforce will naturally lead to a more inclusive culture. When a culture feels inclusive, women and underrepresented groups are more likely to thrive.
2. Diversify Leadership
Are there women in the conference room and C-suites? The PwC Women in Work Index 2023 found that the pace towards gender equality across the OECD is slow. The insights explain that there is still a 14% OECD average gender pay gap, and even though more women are rising to the top level of companies - the representation is still low.
Senior Economist, Larice Stielow, puts this gender pay gap statistic into perspective. "An 18-year-old woman entering the workforce today will not see pay equality in her working lifetime."
We know women are more likely to experience discrimination. The study shows the odds are higher still when women find themselves alone in a team of men. It's important to foster a balanced environment and diversity is something we have to celebrate and integrate consistently.
Have active, ongoing conversations about advancement opportunities and set career goals regularly. Encouraging all women to pursue opportunities at every level will open up your organisation's talent pipeline.
Learn how to support fellow women in the workplace with our top tips.
3. Amplify the Female Voice
Many organisations need to do more to treat gender diversity as the priority it is. When a female (or anyone for that matter) has a great idea, make sure they get the recognition they deserve instead of allowing someone else to take the credit.
Another great way to augment the female voice is by providing public speaking opportunities for female employees both internally and externally. There are also relevant courses that focus on giving women the tools and confidence they need to succeed. Ensure that all employees have equal opportunities.
Give females in your workplace a voice and make sure it's heard. The good news is when women do speak up, people notice and it's rewarded. Women who are mentored and championed quickly grow into leadership roles. As a result, your organisation can expect stronger revenue growth and higher profit margins.
4. Provide Ample Training Opportunities
A diverse working environment is advantageous. Women should be provided with the resources to improve their skills, as should every employee.
There's certainly more work to be done, but it's up to you to do your part whether you're in an entry-level position or CEO status. Help even the playing field so women feel heard, valued, supported and empowered. You can lead your female colleagues and employees to achieve great things in their work and for themselves as well.
Look into better training on topics such as implicit bias, inclusion and diversity and it will continue to bring issues women face to light so your organisation can keep evolving training and policies. A training course created with women empowerment at its core is a great place to start, helping females in the workplace to maximise their presence and create a positive attitude towards change.
We've got just the course to help you get started.
Inspire Confident Communication for Women in the Workplace Today
Whether you're leading virtual meetings or presenting remotely, our Confident Communication for Women in the Workplace course offers a highly effective toolkit of transformative, performance-based techniques, involving the body, breath and voice.
The next available date is October 3rd via Zoom - secure your place before all spots are filled!
Chloe Martin
Content Editor
2+ years in SEO and content marketing. Striving to help public sector professionals develop their skills and learn something new through high-quality content.